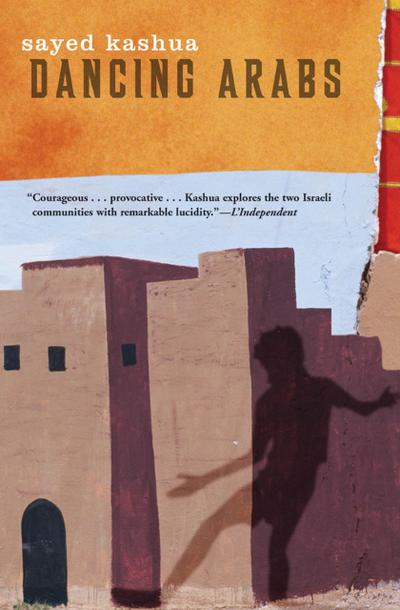 Dancing Arabs
Grove Press
A bildüngsroman suffused with humor and irony, Dancing Arabs centers on a young boy from a poor Arab village, his haphazard receipt of a scholarship to a Jewish boarding school, and the dislocation and alienation that ensues when he finds himself faced with the impossible: the imperative to straddle two famously incompatible worlds.As a child, our nameless narrator/antihero lives with his family in his grandmother's house. His grandmother and father constantly impress upon him the significance of their land: when so many people fled or sold theirs away, they held strong. "Better to die fighting for your land than to give it away."Every night after his brothers fall asleep, he climbs into bed with his grandmother, his main source of comfort and protection. One night she tells him where the key to her secret cupboard are, and if she should die, he must find all the death equipment in the blue bag. Paranoid from then on, he races home every day at recess to see if she's died. One day he gets there and she is not there, so he unlocks the cupboard and pulls out the box. All he finds are towels and some soaps from Mecca, but then he notices his father's photo in the old newspaper lining the suitcase, and some postcards in his father's handwriting. At his urging, his grandmother tells him about the newspaper clippings: his father was always "the handsomest and the smartest" in Tira, until he was thrown in jail for his political activity (eg: bombing a school cafeteria). The grandmother visited her son every week, wrote letters to the mayor, anyone who might be able to help her son. When he was released years later, he remained politically active, revering the Egyptian president Nasser, and for a time, joined the communist party.The young narrator is nothing like his father, who "doesn't understand how my brothers and I came out the way we did. We can't even draw a flag. He says kids smaller than us walk through the streets singing 'P-L-O----Israel NO!' and he shouts at us for not even knowing what PLO stands for." Not at all politically motivated, the boy knows nothing of national identity; he simply wants to get through the school day without getting smacked by his teacher.He excels at school and his family dreams that by the time he graduates, they will have their own state and he will become a pilot, or a judge. One day the principal tells him the Jews are opening a school for gifted students and they will be admitting a few Arab kids too. He is accepted and his father whoops with joy-this will mean a better life for his son and his whole family.His transition at school is very rough. The other students make fun of how he speaks and eats. On a bus home to Tira during his first school break, he is singled out and pulled off the bus by some soldiers. Humiliated, he proceeds on his journey home, but gets off of two more buses fearing that he will be questioned again. He winds up at Ben Gurion airport where his father has to come get him. He cries the whole way home and says he is never going back. His father mocks his tears and his weakness and tells him he has no choice-this is his only chance to escape the limitations of life in Tira. (The tug of war between father and son continues throughout the novel, the father putting his hopes and aspirations onto his son, as well as his defeats and disappointments.)He goes back to school, but only after deciding that he will never be identified as an Arab again. He becomes an expert at assuming false identities: he shaves off his moustache, learns how to pronounce Hebrew like the Jews, buys new clothes, starts listening to only Hebrew music. Soon he falls in love with Naomi, one of his Jewish classmates. On Memorial Day for the Fallen Soldiers, the narrator does not stand up during the moment of silence, and Naomi, whose father had died in action, refuses to speak to him. Eventually, Naomi admits that she loves him too, and for a while, they are together in spite of their differences. She initiates him into a new world of movie theatres and restaurants, and for the first time he learns that Zionism is an ideology, not a swear word; that his aunt is called a refugee; that Arabs in Israel are called a minority; he learns the meaning of both national homeland, and anti-semitism.As the end of his final term draws near, he is constantly tired and dizzy, cannot sleep or eat. He knows that he and Naomi will have to break up when school ends. He takes a bottle of pills the night before a big exam, and winds up in the hospital. His father comes and blames it on "that Jewish whore." After a short convalescence, he finds himself at Hebrew University. He trails Naomi at school, but she avoids him. He stops going to class-he uses his unlimited bus pass to travel the streets of Jerusalem for hours listening to his walkman. This is how he meets Samia, an Arab student who asks him the way to Hadassah hospital one day; he takes her there himself and they areeeeee a couple from then on. Four years later he decides it is time for them to marry. He and his wife are both Israeli citizens and know Hebrew well, but the narrator, a lost son, has no place to go back to after having been exposed to the tempting Israeli experience from which he is barred. He and his wife move to Beit Tsefafa, an Arab neighborhood where they don't know anyone. Soon the second intifada begins to rage-the narrator refers to it as "the war." He begins drinking heavily. He blames his father for his optimism, his faith that it will all turn out well for them, that his going to the boarding school would make a difference.His aimlessness and self-loathing deepen and spiral: he grows apart from his wife, he drinks, fantasizes about taking a lover, and is preoccupied with all his failures. Through his self-destructive haze, he decides he will make everything right-he and his wife will sleep together peacefully, like spoons, he'll give up drinking, he'll start praying, he'll become politically active, a member of the Knesset. He even makes a pilgrimage to Mecca with his one Arab friend from boarding school. But the biggest revelation he has there is that there is no beer in all of Saudi Arabia.One night the narrator is at a bar watching Arabs take over the dance floor. He is disgusted by their ugliness, their lack of grace and self-consciousness. He affirms that Arabs should not be allowed dance, not only because they look ridiculous, but because they make him, the narrator look ridiculous. On Land Day in March, his wife goes with her family to their old village, which is now a Jewish neighborhood. They dress up and bring a picnic as they do on every Land Day and Independence Day. His father criticizes her family, these "refugees"-if they really loved their land, why did they leave it in the first place?After a trip to Egypt, his father gives up on his dreams of liberation and statehood. He was stopped at a border crossing for hours and something in him broke. Now he doesn't want to fight any more. He hates Arabs: "It is better to be the slave of your enemy than to be the slave of a leader from within your own people."In the final scene, the narrator and his wife and baby are sleeping on a mattress in his grandmother's room and his grandmother gets up in the middle of the night and vomits. He gets up to take care of her and she tells him it's like this every night, but that it's not death that makes her cry, it's that she used to think she'd be buried in her own land and now she knows that will never happen. The narrator and his grandmother sit and they both cry together. Filled with humorous observations, this is ultimately a serious book in which huge human truths are delivered in the most deadpan tone, and in which the individual self is lost to the strangling demands of family, history, and political realities.

Autor: Sayed Kashua
Sayed Kashua was born in 1975 in Tira, and went on to study in a boarding school in Jerusalem and at Hebrew University. He lives in an Arab village near Jerusalem with his wife and daughter and works as a journalist. Until recently he had a column in Kol Ha'ir, Jerusalem's most important cultural magazine. An Arab who writes in Hebrew, he has a complicated relationship to his family and history and this project has not endeared him to his village or his people. Like the narrator/anti-hero he has alienated most people in his life, is largely barred from Israel's dominant society, and yet he remains bound to this volatile land.Translated from the Hebrew by Miriam Shlesinger
Zu diesem Artikel ist noch keine Rezension vorhanden.
Helfen sie anderen Besuchern und verfassen Sie selbst eine Rezension.
Autor: Sayed Kashua
ISBN-13:: 9781555846619
ISBN: 1555846610
Verlag: Grove Atlantic
Größe: 3030 KBytes
eBook Format: EPUB
Kopierschutz: 2 - DRM Adobe
eBook Typ: Adobe Digital Editions
Seiten: 224
Sprache: Englisch
Sonstiges: Ebook
Kopierschutz
Adobe-DRM
Adobe-DRM ist ein Kopierschutz, der das eBook vor Mißbrauch schützen soll. Dabei wird das eBook bereits beim Download auf Ihre persönliche Adobe-ID autorisiert. Lesen können Sie das eBook dann nur auf den Geräten, welche ebenfalls auf Ihre Adobe-ID registriert sind.
Wasserzeichen-DRM
Das sogenannte Soft-DRM erlaubt das Kopieren und die Weitergabe an Dritte. Im Buch werden allerdings Informationen zum eBook-Kauf an sichtbaren und unsichtbaren Stellen (Wasserzeichen) eingetragen – z.B. Ihre E-Mail-Adresse oder die Transaktions-Nummer. Illegale Kopien eines eBooks können dadurch jederzeit zu Ihnen zurückverfolgt werden.
eBooks ohne DRM
Hierbei handelt es sich um eBooks ohne Kopierschutz. Allerdings ist auch hier eine Weitergabe an DDritte nicht zulässig, weil Sie nur die Rechte zur persönlichen Nutzung erwerben.
Dateiformate
EPUB (Electronic Publication)
EPUB ist ein offener Standard für eBooks und eignet sich besonders zur Darstellung von Belle­tristik und Sach­büchern. Der Fließ­text wird dynamisch an die Display- und Schrift­größe ange­passt. Auch für mobile Lese­geräte ist EPUB daher gut geeignet.
PDF (Portable Document Format)
Mit einem festen Seiten­layout eignet sich die PDF besonders für Fachbücher mit Spalten, Tabellen und Abbildungen. Eine PDF kann auf fast allen Geräten angezeigt werden, ist aber für kleine Displays (Smart­phone, eReader) nur eingeschränkt geeignet.
Systemvoraussetzungen:
PC/Mac: Mit einem PC oder Mac können Sie dieses eBook lesen. Sie benötigen eine Adobe-ID und die Software Adobe Digital Editions (kostenlos).
eReader: Dieses eBook kann mit (fast) allen eBook-Readern gelesen werden. Mit dem amazon-Kindle ist es aber nicht kompatibel.
Smartphone/Tablet: Egal ob Apple oder Android, dieses eBook können Sie lesen. Sie benötigen eine Adobe-ID sowie eine kostenlose App.